St Dunstan's Enterprises
Prices
From £55.00-£90.00/hour
Opening Times
Monday 17:30 - 22:30
Tuesday 17:30 - 22:30
Wednesday 17:30 - 22:30
Thursday 17:30 - 22:30
Friday 17:30 - 22:30
Saturday 09:30 - 16:30
Sunday 09:30 - 16:30
Get Directions
Closest Station
Catford Station
St Dunstan's Enterprises
Jubilee Sports Ground, Canadian Avenue, Catford SE6 4SW
Visit website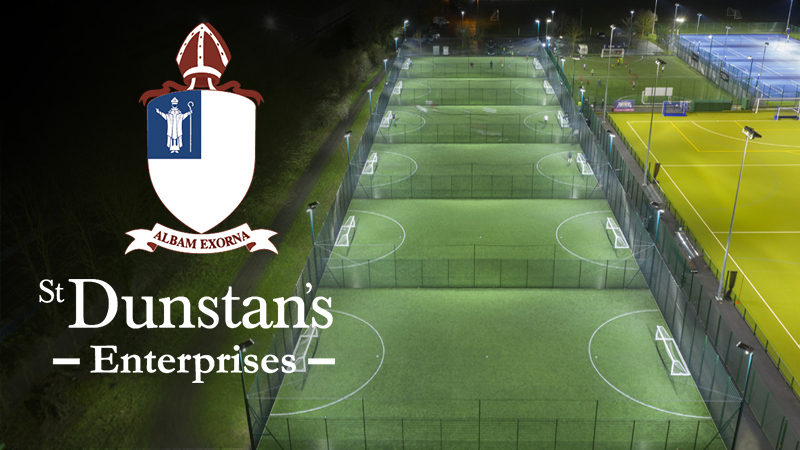 If you're looking for a 5-A-Side football pitch in South London, then the St Dunstan's Enterprise, Jubilee Sports Ground has the perfect facilities for you.
The South London 5-A-Side football venue was Installed in Spring 2017, but has undergone some further enhancements in the summer of 2019 – including the introduction of PlayCam. Brand new changing rooms for both men and women available, meaning that our players can attend straight from work, or freshen up if you're heading straight out after.
Located just a 3 minute walk from Catford Station (Lewisham), the third generation (3G) pitch – used by many professional football clubs in the Premier League – are ideal for training session or a kick about with friends. Available throughout the year, all of the South London 5-A-Side football pitches are both floodlit and flood-proof, which makes the St Dunstan's Enterprise an excellent venue for winter or rainy night games.
For those travelling by car, there are over 200 car parking bays at the venue and easy access to two close train stations. Both Catford Station (Lewisham) and Catford Bridge Station are in walking distance from the 5-A-Side football venue.
PlayCam in Catford, Lewisham
Our St Dunstan's Enterprise South London football venue has three 5-A-Side pitches and one 7-A-Side pitch covered by PlayCam. The PlayCam recording service is included with all your bookings – Just simply notify reception prior to your game and you can watch back, in as little as an hour after the final whistle.
PlayCam covers social games, league games and training sessions at St Dunstan's 5-A-Side football pitches. View our St Dunstan's Enterprise Goals, Skills and Funny videos.
5-A-Side football leagues in South London
St Dunstan's Enterprise operate a Monday night 5-A-Side Football league for Catford amateur players and local residents. League games are held between 18:30 and 21:30 and last 45 minutes per match. If you are interested in joining a league, please contact info@sdmail.org.uk.
4G Pitches
(6) 5-A-Side Football Pitches
(1) 7-A-Side Football Pitches
Male & Female Changing Facilities
Floodlit Pitches
(200) Parking Spaces