Goals Tolworth
Prices
From £57.50-£91.00/hour
Opening Times
Monday 8:30 - 23:00
Tuesday 8:30 - 23:00
Wednesday 8:30 - 23:00
Thursday 8:30 - 23:00
Friday 8:30 - 23:00
Saturday 9:00 - 18:00
Sunday 8:30 - 22:00
Get Directions
Closest Station
Tolworth Railway Station
Goals Tolworth
Deckers sports ground, Kingston Rd, Worcester Park, Surbiton KT5 9NT
Visit website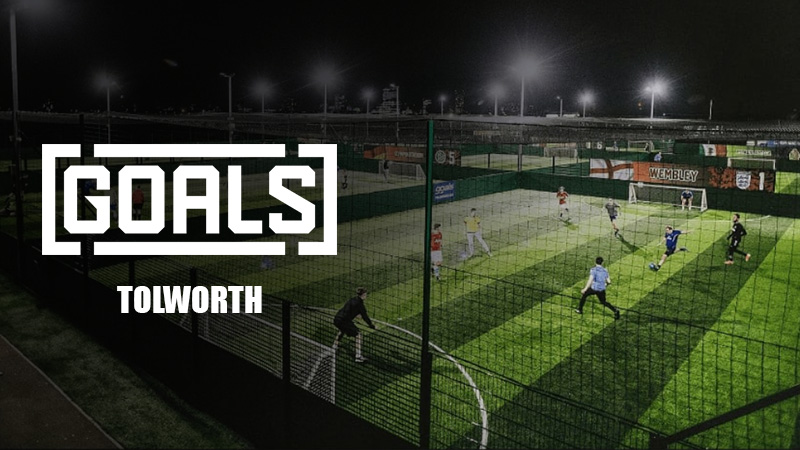 Goals Tolworth is the first Goals Soccer Centre to partner with PlayCam. Goals Football is one of the UK's leading small-sided football operators, which have 46 other venues across the UK. The Goals Tolworth centre is one of their top performing centres and one of the finest sports facilities in South-West London. 5-A-Side football is the most popular activity at the venue. Goals Tolworth provide excellent playing surfaces all year round, no matter the weather or temperature.
The Goals Tolworth pitches feature the latest ProTurf® surfaces. This all weather surface was created specifically for small sided football and is as close to real grass as you can get! The 5-A-Side and 7-A-Side pitches are vibrantly floodlit. It's an ideal venue for late night games after work and winter evenings.
League games at Goals Tolworth are played Monday, Tuesday, Wednesday and Thursday evenings. The on-site bar and recreational area with TV is the perfect place to unwind after your 5-A-Side football games.
Location
Situated 3 minutes walk from Tolworth railway station, Goals Tolworth is easily accessible by public transport. For those attending the Goals Tolworth via car, the parking is free of charge at the facility. However, parking spaces are limited during peak operating hours.
The venue is open to the public to play games on a one off basis without membership. Their pay as you play system means that you can book now and play without being a member. This gives you the freedom to play a one off game without having to pay a monthly membership fee.
The best 5-A-Side venue in South West London
Goals Football has recently invested over £9 million in their facilities and this really shows at our Goals Tolworth venue. Changing rooms are available for both male and female customers. The changing facilities are well-maintained and spacious. Perfect for players coming straight from work and showering after the game.
5G Pitches
(8) 5-A-Side Football Pitches
(1) 7-A-Side Football Pitches
Changing Facilities
Floodlit Pitches
(100) Parking Spaces