Goals Sutton
Prices
From £57.50-£91.00/hour
Opening Times
Monday 10:00 - 22:30
Tuesday 10:00 - 22:30
Wednesday 10:00 - 22:30
Thursday 10:00 - 22:30
Friday 10:00 - 22:30
Saturday 09:00 - 18:00
Sunday 08:30 - 21:30
Get Directions
Closest Station
Sutton Common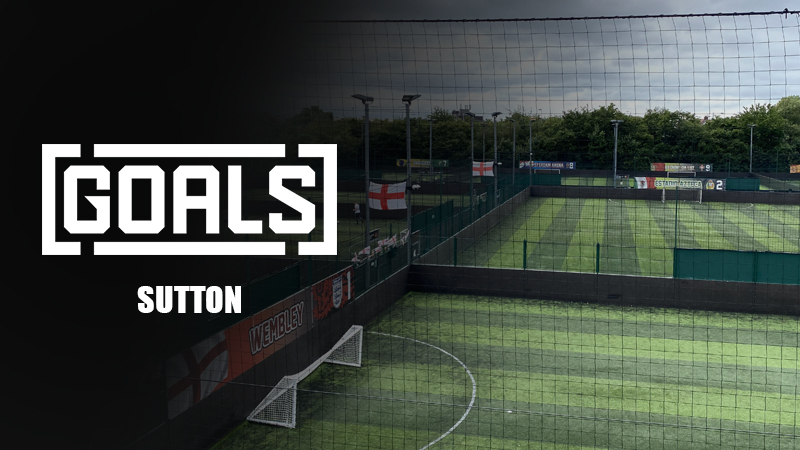 Goals Sutton is the second Goals Football venue to partner with PlayCam. The Goals Sutton centre has 9 5-A-Side pitches and 1 7-A-Side pitch.
All of Goals Football pitches are covered by ProTurf®. The Goals ProTurf® pitches are the closest artificial surface to the real thing. Goals recently invested over £9 million on their pitches across the UK.
League games at Goals Tolworth are played Monday, Tuesday, Wednesday and Thursday evenings. The on-site bar and recreational area with TV is the perfect place to unwind after your 5-A-Side football games.
Location
The closest rail station to Goals Sutton is a 20 minute walk to Sutton Common. However, the facility has excellent bus links making it easy for players to reach the venue.
It is preferable to drive to Goals Sutton, as there are ample spaces for players travelling by car. Parking at Goals Sutton is free of charge at the facility. However, limited spaces during peak operating hours may be a concern.
Facilities
Goals Football has invested a lot into their clubhouse, and it is really reflected in their changing rooms facilities. The changing facilities are available for both male and female customers and kept very clean and tidy, which is perfect for players coming straight from work.
Players will be pleased to know that they have a bar area with Sports TV's making it the perfect place to unwind after the game.
5G Pitches
(9) 5-A-Side Football Pitches
(1) 7-A-Side Football Pitches
Changing Facilities
Floodlit Pitches
(130) Parking Spaces