Presentedby: SetPlay Cup

Event Date: 26th May 2019
About this event
The Presentedby: SetPlay Cup is a celebration of digital innovation in sport and entertainment.
In partnership with Crep Protect, MiWhip and Presentedby, SetPlay will host a 24 team tournament. With 160+ players expected to visit on the day. We are looking forward to seeing what skills some of favourite musicians and sports stars have on show!
Who's there…
The event is hosted by Joelah Noble & Tazer Black, with DJ's Amarie Cassidy and DJ MVA providing the entertainment. Confirmed teams/artists include: Rising Ballers, Hidden Talent, Tekk Squad, Big Zuu's Joint FC, Paigey Cakey, C Cane, Monique Lawz & more…
Our official kit supplier, Kitlocker, have ensured that our teams are looking their best with our official media partner, VERSUS, capturing the highlights from the crowd and beyond.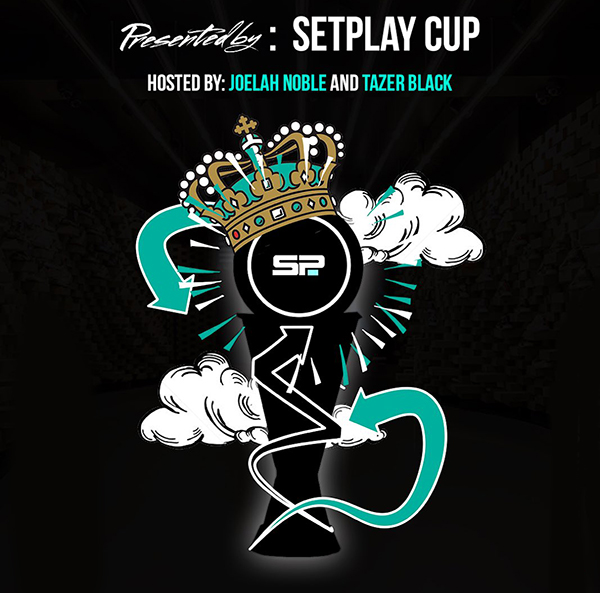 Spectators will be able to compete in challenges to win prizes.
With food provided by Lily's Lounge, JRK BROS and Tigerbites.
Tournament info
16 men teams / 8 women teams
20 min matches
Top 2 from each group go through to the knock-out stages
Tournaments held at Trent Park Football Centre, London's Premier Football Centre
Mens Finals
Cheeky Sport ( 3 ) vs ( 1 ) Rising Ballers
Semi Finals
Rising Ballers vs Hidden Talent
Corporate 5's vs Cheeky Sport
Quarter Finals
Rising Ballers vs Hackney Wick
Joints vs Hidden Talent
Cheeky Sport vs Ter Ter
Tek Squad vs Corporate 5's
Group A
| Teams | W | L | D | G/D | P |
| --- | --- | --- | --- | --- | --- |
| Rising Ballers | 3 | 0 | 0 | 19 | 9 |
| Ter Ter | 2 | 1 | 0 | 0 | 6 |
| Kulture Klub | 1 | 2 | 0 | –8 | 3 |
| Pits Football | 0 | 3 | 0 | -11 | 0 |
Group B
| Teams | W | L | D | G/D | P |
| --- | --- | --- | --- | --- | --- |
| Madness | 2 | 0 | 1 | 6 | 7 |
| Corporate 5's | 1 | 0 | 2 | 3 | 5 |
| Hidden Talent | 1 | 1 | 1 | 6 | 4 |
| DC Academy | 0 | 3 | 0 | -15 | 0 |
Group C
| Teams | W | L | D | G/D | P |
| --- | --- | --- | --- | --- | --- |
| Cheeky Sport | 3 | 0 | 0 | 8 | 9 |
| Hackney Wick | 2 | 1 | 0 | 6 | 6 |
| SetPlay United | 1 | 2 | 0 | 9 | 3 |
| Wildcards | 0 | 3 | 0 | -10 | 0 |
Group D
| Teams | W | L | D | G/D | P |
| --- | --- | --- | --- | --- | --- |
| Tekk Squad | 3 | 0 | 0 | 12 | 9 |
| Joints FC | 2 | 1 | 0 | 10 | 6 |
| Squadrons | 1 | 2 | 0 | 6 | 3 |
| Reach Out Project | 0 | 3 | 0 | -28 | 0 |
Womens Finals
Rising Ballers ( 4 ) vs ( 1 ) SetPlay United
Semi Finals
SetPlay United vs FC Cakey
Cane FC vs Rising Ballers
Ladies Group A
| Teams | W | L | D | G/D | P |
| --- | --- | --- | --- | --- | --- |
| Rising Ballers (Ladies) | 3 | 0 | 0 | 22 | 9 |
| FC Cakey | 2 | 1 | 0 | 20 | 6 |
| Anaid FC | 1 | 2 | 0 | -14 | 3 |
| Goal Diggers Podcast | 0 | 3 | 0 | -28 | 0 |
Ladies Group B
| Teams | W | L | D | G/D | P |
| --- | --- | --- | --- | --- | --- |
| SetPlay United (Ladies) | 0 | 0 | 0 | 38 | 9 |
| Cane FC | 0 | 0 | 0 | 10 | 6 |
| Lawz FC | 0 | 0 | 0 | -13 | 3 |
| BFF FC | 0 | 0 | 0 | -35 | 0 |
Register your interest
If you are interested in entering a team for this event, or any of the other tournaments. Please contact the event organisers for further information on how to register